Ignition Module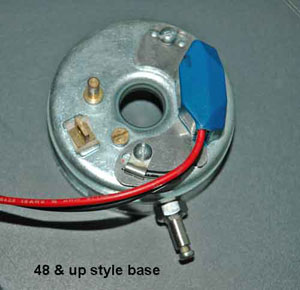 Two kits are available:
Kit 36-47  no 0156906  fit H-D models 45″ WL,WLA,WLC, EL U, UL  knuckle and sidevalves(1936-1947
Kit 48-1964 no 0156907 fit 45 WL, WLH, UL,EL, FL ,K, KH,sportster , sidevalves and Panhead models
The main difference between the two models is the timing rotor. Timing differs since Harley changed the ignition base plate breaker points position relative to the front cylinder.
The Electronic part (baseplate with blue moulding) will fit both situations.
One has to check what model ignition timing base is fitted on the bike. Some bikes have a wrong model ignition system mounted in respect to the year. This can be very confusing. Especially in the year 1947 where the timing base changed.
Kit 36-47 is reselled with order number 0156900 36-47
Kit 48-64 is reselled with order number 0156903 48-64
Separate rotor only 0156904 36-47
Seperate rotor only 0156904 48-64 (the rotor has a "2" stamped at the bottom)
The ingnition module replaces the Condenser and Breaker Points.
It is designed to work on 6Volt and 12Volt battery powered systems.
The kit consists of the following items:
Electronic Ignition Module with mounting flange
60 cm wire loom
Trigger rotor
2x Flag terminals
Installation instructions
Hex key 2mm(5/64)
Rubber grommet
All products on this web page are distributed by Samwel supplies and can be ordered from your local dealer.